16. genderfluid transhet. she/he/it/pup. autistic + more



aries ♈︎. infp. chaotic neutral. 9w8.

i am feeling:



hello :) my name is sophia, im a (now in vacations) high school student from colombia, while im not in stinky school, im a cool autistic neet who loves coding, drawing, making ocs, gaming and most of all talking to cool interweb strangers, like you! so feel free to talk to yours truly! nya :3



i like often childish stuff like childrens anime and toys, but i also really really like gore, weird porn, psychosexual analysis and psychological thrillers, the stuff im into can be at times kinda weird and dare i say problematic but i dont really care lmaooo i dont have time to argue abt shit muhehehe, i wanna get into collecting anime figures (i have a super sonico and a set of eva figures ordered B3) and im currently saving up for building a computer and be a true gamer since my current computer is a toaster :/

in the next year ill finally leave school, so i have to decide my uni career (or be a neet forever wich is tempting) so im either gonna study animation or gonna go nuts and become a foresic psychologist, a forensic doctor, or a persecutor attorney or whatever, im probably gonna stick to art stuff because i like art and ive been doing it since i was baby and it feels wrong not to study it, im probably gonna be doomed to work at retail forever tho :(( its sad but its true, so before even starting to study at uni im planning to work part time to afford my stuff :/
im bad at starting conversations even if ur not my friend, i dont usually do dms, if im ur friend ill usually talk to u trough discord servers as i feel safer in big groups, im pretty shy when first meeting people but i enjoy company, im kind of a weirdo tho not many people talk to me irl and im kind of a loner, im bad at small talk and people dont usually like me beyond surface, i really love all my friends and im very protective on who enters my neat little circle, and dms more than so stress me out
my dream is to be a mangaka someday and move to the great country of nippon, but im stupid and dumb and ive tried to learn japanese MULTIPLE times but i always get distracted and stop doing it after a while, help me uweeeh
my fav animal is monkeys and my fav food is probably dominos and ummmm hmm i like looking at old web my favourite site here is obviously wired sound...idk more stuff to say abot mself :/

INTERESTS
SPECIAL INTERESTS


pokemon / bugs / animation
lost media / sanrio / coding
cookie run / lost media / character design

MEDIA


animal crossing / hololive / splatoon
deltarune / mlp:fim / lucky star
minecraft / idolmaster / precure


MUSIC


mars argo / mitski / marina
loona / twice / girls generation
boa / graham krata / bo en


MISC


art / 4komas / speedruns
vocaloid / old web / figure collecting
jerma / quinton reviews / game grumps

DISLIKEZ :(

★ discourse
★ church
★ babies
★ capitalism
★ fanpol
★ meat
★ school
★ my classmates
★ exclusionists
★ my cousins
★ the cold
★ "edgy" people
★ popular kids
★ lolcow
★ rpf
★ mcyts
★ kinnie drama
★ tall "people" /j

LIKEZ B)

★ pizza
★ my friends
★ coding
★ video games
★ cats
★ 3Ds games
★ cookie run
★ sweets
★ drawing
★ money
★ figures
★ pokemon
★ nature
★ monster
★ kaijus
★ plushies
★ old newgrounds
★ kids anime
★ fisher price toys
★ monkeys
★ rpg maker
★ undertale
★ minecraft
★ vocaloid
★ junk food
★ anime
★ gore
★ weird porn
★ horror movies
★ indie games
★ animal crossing
★ flash games


Which Hatsune Miku Nendoroid Model Are You?
Hosted By theOtaku.com: Anime


Which Jewelpet Are You?
Hosted By theOtaku.com: Anime


What Shoujo Anime Character Are You?
Hosted By theOtaku.com: Anime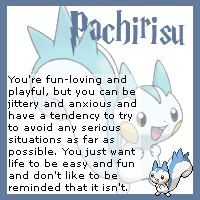 What Lucky Star Character Are You?
Hosted By theOtaku.com: Anime


sophie's Dewey Decimal Section:

851 Italian poetry

sophie = 956895 = 956+895 = 1851

Class:

800 Literature

Contains:

Literature, criticism, analysis of classic writing and mythology.

What it says about you:

You're a global, worldly person who wants to make a big impact with your actions. You have a lot to tell people and you're good at making unique observations about everyday experiences. You can notice and remember details that other people think aren't important.

Find your Dewey Decimal Section at Spacefem.com




you are mediumpurple
#9370D8


Your dominant hues are blue and magenta. You're the one who goes to all the parties but doesn't quite fit in at every one... you know what you want, but are afraid of what the world might think of it. You're a little different and that's okay with them, and if you're smart it's okay with you too.

Your saturation level is lower than average - You don't stress out over things and don't understand people who do. Finishing projects may sometimes be a challenge, but you schedule time as you see fit and the important things all happen in the end, even if not everyone sees your grand master plan.

Your outlook on life is bright. You see good things in situations where others may not be able to, and it frustrates you to see them get down on everything.


the spacefem.com html color quiz




I am 150 centimeters tall. This makes me taller than 0.1% of men and 2.8% of women.

|

|

|

|

|

|

|

|

|

|

|

|

|

|

|

|

|

|

|

|

|

|

|

|

|

|

|

|

|

|

|

|

|

|

|

|

|

|

|

|

|

|

|

|

|

|

|

|

|

spacefem.com/quizzes/tall/



See what Care Bear you are.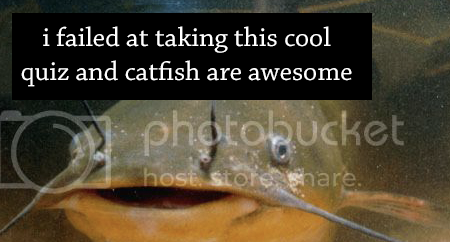 I failed this quiz, and catfish are awesome.

Which Junji Ito Character Are You?
Hosted By theOtaku.com: Anime


Which Touhou Protagonist Are You Mostly Like?
Hosted By theOtaku.com: Anime


Which Member of the Mane 7 Are You?
Hosted By theOtaku.com: Anime


What Dere Type Are You?
Hosted By theOtaku.com: Anime


Which Minecraft Mob Are You?
Hosted By theOtaku.com: Anime

This page is protected by a
FROG
The pictured frog, a Red-Banded Rubber Frog, releases a milky toxic substance through its skin, and is toxic to both humans and other frogs.
Get a webpage guardian here!

Which Ouran Highschool Host Club Member Would You Date?
Hosted By theOtaku.com: Anime



home
funny monkey videos
hentai